As human beings, we need connection but when we are struggling emotionally, it can be difficult to identify and connect with others.  We can often see ourselves, or feel that others see us, as different or broken.  Many of us here at the Forum have experienced feelings of isolation and loneliness at different points in our lives and along our Recovery journeys.
Connection means different things to different people.  We work together within our local communities to create a sense of belonging and inclusivity.  We celebrate our differences and acknowledge the value of individual perspectives and experiences.
At the Forum, we work with individuals, organisations, and communities to offer a range of different activities across Dorset that bring people together and help us connect with others.
We want to remove barriers between services and ensure that we are able to live the life we want to live in spite of any challenges we might face.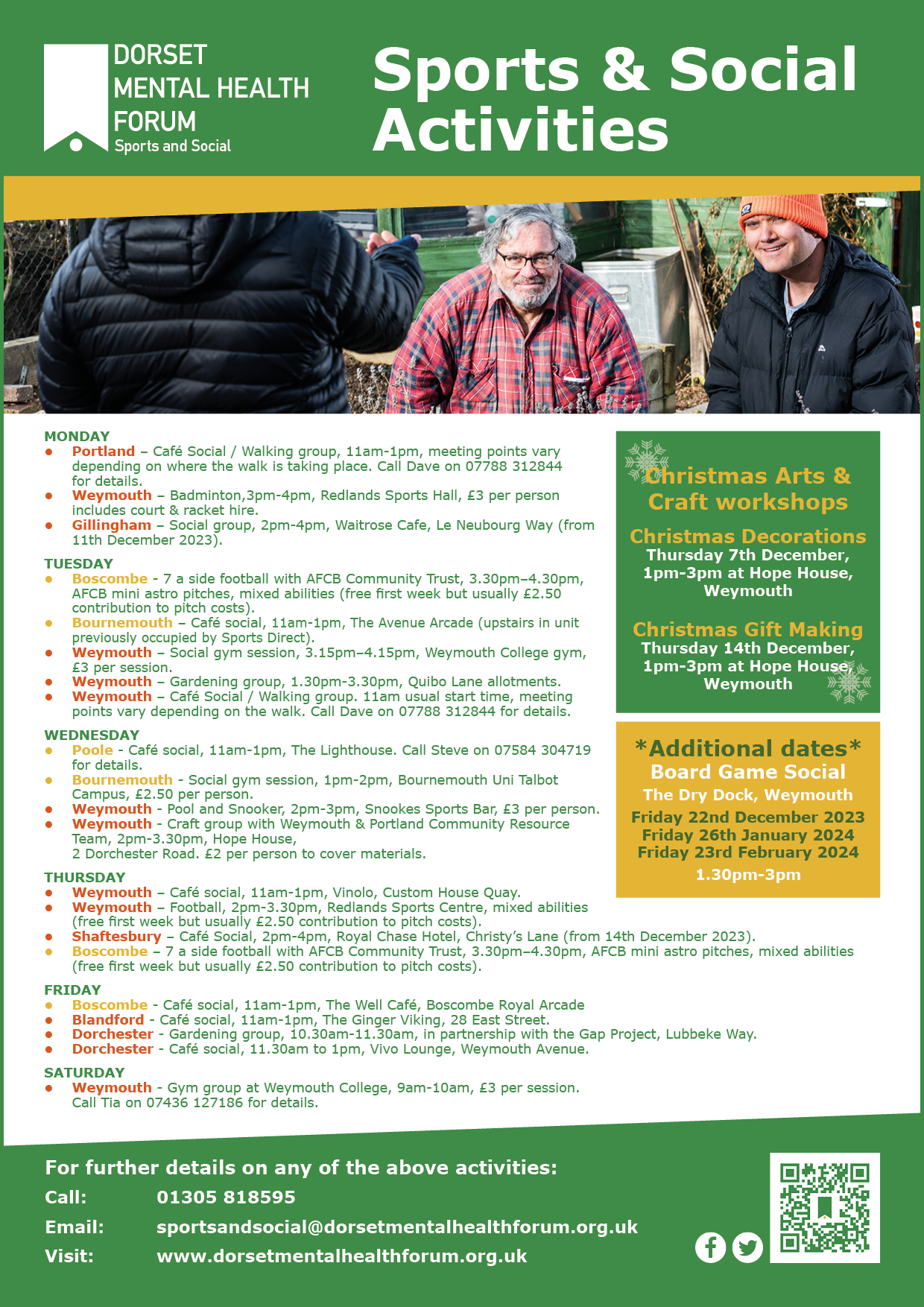 Aims of Social Connection
Our Sports and Social Programme is delivered by people who have lived experience (Peers) who understand first hand how difficult it can be to reconnect and will help you think about what activities or opportunities might work for you.
We run some groups ourselves but also link with existing community activities to break down barriers and make them more accessible for everyone. We have a whole range of partnerships and community connections that are rooted in our local community.
Whether you want to meet someone 1-2-1, kick around a football with some likeminded people, hang out at the gym or get out in nature by joining one of our walking or gardening groups, we will help you find somewhere you fit in and feel comfortable, without judgement and often without talking about your mental health at all.
We tailor our programme of activities to our people and communities so if you don't see something that interests you, please get in touch with one of our team. We are always happy to meet up over a coffee and talk through what you are interested in.
If you would like to get in touch and chat about the activities on offer in your community, please email: [email protected] or phone: 01305 818595 (if you leave a message outside office hours, we will get back to you).
To keep up-to-date with our activities, follow us on our social media pages:
https://twitter.com/DMHF_social